Lessons from the Largest Meetup Group in the World
From 1 to 36,000 Members Strong, New York Tech Meetup's Jessica Lawrence Shares Lessons Learned 
Every month for the past 10 years, the members of NY Tech Meetup have gathered to share new technology they are building: websites, mobile apps, software and hardware. What started with four people in a conference room, slowly grew to fill larger and larger spaces, until finally occupying its current home in the 850-seat Skirball Theater at New York University. 

Tickets to the NY Tech Meetup sell out in minutes, and each month a new group of 10 technology startups takes the stage to show their latest innovation to the world. 
With over 36,000 members, NY Tech Meetup is now the largest Meetup group in the world, and as its Executive Director since 2011, my role is to not only to lead the full-fledged non-profit organization that we've become, but also to make sure that every month we put on an event that inspires and connects our community. 
Photo Credit: Clay Williams
Here are a few things I've learned along the way: 
Know Why You're Doing It
When people ask me how the monthly NY Tech Meetup event has grown and become so successful, I often say that it's because when it was first founded in 2004, the purpose wasn't to put on a massive event. The purpose was to build a community in which people in the technology industry (which was just starting back up in the city at the time) could connect and find support. The organic growth of NYTM was largely driven by the fact that its purpose was community centered and not ticket-sale centered. 
Not every event or organization wants to or can function like that, but it's important when hosting events to understand the purpose. Are you setting out to throw a one-night massive party because your main goal is for everyone to have fun or are you hoping to build a longer-term community centered of ongoing events? There's no one right answer, but knowing what you're hoping to achieve is essential to create the right foundation for what you are about to build. 
A Single Task
Our monthly Meetups are structured so that all of the attendees are seated facing the stage for a two-hour program. We take a short break for five minutes for them to meet the people sitting around them, but other than that, during those two hours they are totally focused on the stage. 
They aren't drinking and they aren't having conversations in the back of the room. In our experience, if people are standing up and drinking, they are most likely going to want to socialize, so we tend to never mix socializing and drinking with expecting people to pay attention to a series of presentations. 
That being said, we understand that the networking component is incredibly important, so we always follow our two-hour theater-based program with an hour and a half of networking in a big open room connected to the theater where all of the companies that demoed earlier have tables and can interact with the audience.  
Photo Credit: Qool Foto
There's Always Someone New
In the very early days at NY Tech Meetup, everyone could fit around one conference table and everyone knew each other. It was okay at the time to have some unwritten rules or inside jokes because everyone either knew them or got in on them quickly. 
One of those early unwritten rules was that we never allowed the audience to ask the question "What's your business model?" during Q&A because we wanted to focus on the technology. Now, that we have over 500 new people joining every month, we realize that not everyone knows this the rule, and after a few unsuspecting new members were booed for asking a question they didn't know they weren't supposed to ask, we decided to incorporate a welcome and disclaimer Q&A for our new members at the beginning of every event. People won't feel like they're welcome if they feel like there's a whole rulebook they aren't privy to. 
Know Your No Shows
The bottom line with no shows is that you will always have a certain percentage of no shows, no matter what, but the number is dramatically reduced if you charge a little something. That doesn't mean that every event should have a price tag – we mostly charge $10 for tickets because we have to cover the cost of the theater, but it does have the added benefit of keeping our no show rate at about 15-20%. When we've done free events, depending on the time of year, the weather that day and the event content, the no show rate can been anywhere from 50-70%. 
Keep the Logistics Simple
We keep our logistics simple by always using the same venue, always having the same people checking attendees in at the door, and following a simple checklist of everything we know that we need to get done prior to the event. Because we produce a fairly technical show, knowing that we work with the same audio visual crew every month and having a system down for how companies demo their websites (all on the same laptop if we can), or mobile apps (document camera or direct connect to a VGA cable), makes executing the event a lot more seamless and less stressful.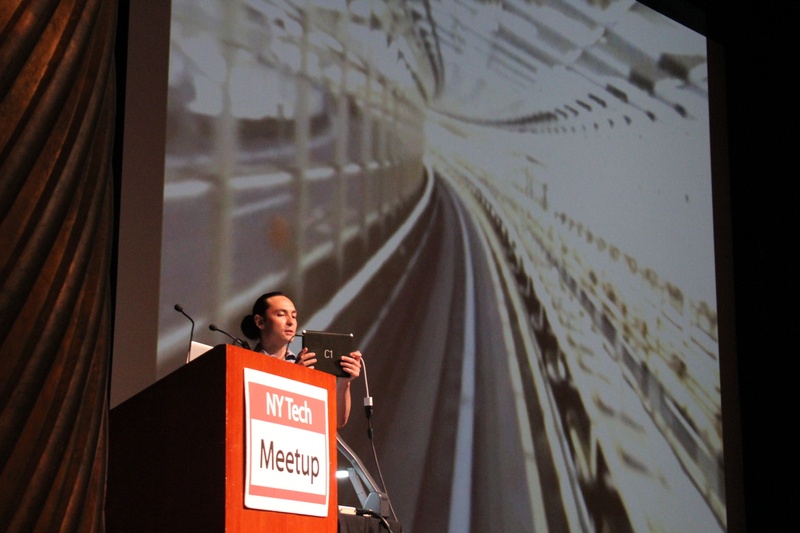 Photo Credit: Qool Foto
Put Time Into Content
While people come to the NY Tech Meetup every month to connect with each other, they also come to see the companies on stage. We put time into selecting each demoer and preparing them to be on that stage. We also have a unique format -- we virtually ban PowerPoint and ask each demoer to present their product live, so that the audience can get a true sense of what it feels like to actually use what they're seeing. If the demoers weren't interesting or the event became laborious to watch, people would stop coming. 
For pure networking events or parties there is still content, even if it's not being showcased from a stage. Who is there, what they get to see, who they get to talk to, what they get to do, what the energy in the room is like, how the space feels – those are all aspects of content. 
Running an event that is as well-attended and as frequent as NY Tech Meetup's gatherings is both an art and a science. Our underlying structures and consistent procedures ensure that the basic event runs smoothly, and through experience we've learned to tap into our intuition to create something that keeps audiences coming through the doors by the thousands each month.
Looking to plan your next big event? Be sure to check out attending.io for your simple and sweet event needs.